March 17, 2023
The Software Heritage symposium and summit webpage is now live!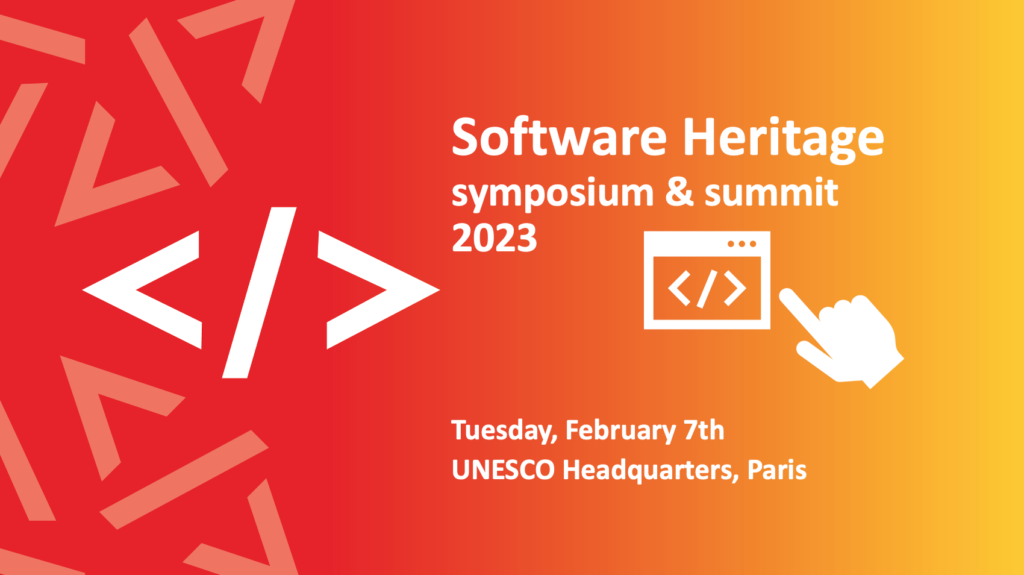 We are thrilled to announce that the Software Heritage symposium and summit webpage is now live! If you were not able to attend this exciting event on February 7th, 2023, you can still access the wealth of knowledge and insights shared by our expert speakers.
Voices from the Software Heritage Symposium and Summit
Representatives of the Software Heritage growing community gathered at UNESCO on 7 February 2023 to take stock of the initiative's achievements, on the occasion of its second annual symposium and summit.
Organized in collaboration with UNESCO, the international conference "Software Source Code as documentary heritage and an enabler for sustainable development" highlighted the relevance of Software Heritage's mission in the context of today's dynamic digital innovation landscape. Five major dimensions were explored throughout the programme: software source code as documentary heritage and as an enabler for digital skills education; software source code as a first-class research object in the open science ecosystem; software source code as an enabler for innovation and sharing in industry and administration; perspectives on long term preservation, and technological advances enabling massive analysis of software source code.
The welcome address and opening of the second annual Symposium and Summit was launched by Mr Fackson Banda Chief, Documentary Heritage Unit, UNESCO, whose Documentary Heritage Unit is the Secretariat of the Member of the World (MoW) programme, co-hosted the event. The MoW's threefold mission is to identify, preserve, and access documentary heritage, including in its digital form. As such this Symposium and Summit was pivotal to efforts to place software source code at the heart of digital documentary heritage. 
In his opening remarks, UNESCO's Assistant Director-General for Communication and Information, Mr Tawfik Jelassi, emphasized the importance of the multiple dimensions and interconnections of the domain of software and the role it and software source code play in safeguarding and preserving documentary heritage and software heritage and in sharing it across the world. "Software source code represents unique knowledge of humanity's recent history. It is crucial to work collectively so that the knowledge embedded in software source code is properly preserved, valued, and shared with all," Mr Jelassi emphasized.
Broadening this topic, Ms Stéphanie Schaer, Directrice interministérielle du numérique, France, spoke of the significant role free and open source software plays in enabling access to public services in France and how public administration can further support these efforts. "I am indeed convinced that free software has its place to offer public officials an attractive, ergonomic and increasingly collaborative working environment," she affirmed.
Mr Bruno Sportisse, CEO, Inria, the French National Institute for Research in Digital Sciences and Technologies, stated that Inria, which "has always been for the construction of open digital infrastructures," has endorsed Software Heritage since the launch of the project, and commended UNESCO's and the other partner's involvement in advancing the Software Heritage initiative.
Reinforcing the role of software and its source code being a fundamental enabler in all human activities and setting the scope for the symposium, Mr Roberto Di Cosmo, Director of Software Heritage, stated:
"Software is all around us. It is the engine of digital transformation. It is a fuel of innovation. It is a major pillar of academic research. It is an essential tool for public administration. It is the hidden fabric that binds together our digital lives. Fruit of human ingenuity, it is a precious part of our technical, scientific and organizational knowledge."
The first session was a Panel on Software Source code as part of Memory of the World moderated by, which addressed the different aspects of software source code, including: its value as digital cultural heritage, the practical skills relating to its production and development, issues surrounding the usage of software source code as an integral part of the larger ecosystem of cultural heritage preservation and accessibility.
Ms Claire Gillissen-Duval, Senior Director, EMEA & MEE Corporate Social Responsibility, Global Corporate Affairs, SAP highlighted the success of Africa Code Week, which empowers younger generations in Africa by teaching the coding skills they need to thrive in the 21st century. She also detailed that over the course of eight years, ACW had more than 20 million children engaged and that ACW also serves to break the technology gender gap by encouraging African, female teachers to share their newly acquired skills in the classrooms and with their communities. 
Ms Natasa Milic-Frayling, CEO, Intact Digital Ltd; UNESCO Preservation Sub-Committee; Professor Emerita, University of Nottingham elaborated on the importance of the preservation of and access to digital documentary heritage. Specifically, long-term care of software to enable the use of digital artifacts, ranging from archived scientific data to digital artwork affected by technology obsolescence. She also spoke of the licensing issues related to the topic:
"…from the legal perspective, they [vendors] need to know that when they stop producing software, they stop maintaining software, when they stop selling software, they should give people rights to use the software. So that the legacy and the value that was created doesn't go to waste,"
she proclaimed.
Further expanding on licensing issues, Ms Brigitte Vézina, Director of Policy and Open Culture, Creative Commons discussed copyright law and policy relating to open culture programs. She spoke about, "giving creators the freedom to decide on which conditions they want to share" and "freeing up the knowledge and the culture that is otherwise locked behind copyright walls." Thereby, making content "more openly accessible and encouraging more equitable sharing of knowledge" which is necessary to "address the world's biggest problems for us to reach the sustainable development goals." She also expressed regret that only 1% of cultural heritage is available online, and hopes to see emerging global recommendations on open culture and open heritage similar to UNESCO's Recommendation on Open Science, 2021.
The conference session provided valuable insights into cutting-edge methods for preserving software source code, and attendees were excited about the possibilities that these groundbreaking approaches could offer for long-term archival.
Mr Marc Antonini, the coordinator of the MoleculArXiV flagship project on DNA storage, discussed the potential for DNA storage to revolutionize long-term archival. He drew parallels to the early days of computer science, where a few megabytes of data weighed tons and were incredibly expensive. Today, we can store terabytes of data in a laptop for a few hundred dollars. Similarly, DNA storage holds the promise of storing petabytes of data in a small capsule that can last 10,000 years.
Next, Mr Paolo Ferragina, a world-renowned expert in data compression, presented preliminary results of experiments on compressing the contents of source code repositories. These experiments could potentially create copies of the Software Heritage archive using only a fraction of the space of the full archive. Mr Ferragina emphasized that it is now time to run these experiments at full scale, which will require access to large computing facilities.
Finally, Mr Giovanni Ponti from ENEA discussed the progress made in building the first mirror of the Software Heritage archive in Bologna. The plan is to establish it in the same building that houses the Leonardo supercomputer, making large-scale studies more feasible. The Software Heritage mirror is now considered a major project at ENEA, with support from local authorities, and is expected to be operational by the end of summer 2023.
The following session included lively discussions by the Open Science Panel, which demonstrated how software source code is not only a tool for the preservation of the world's software heritage but also an instrument at the service of Open Science and FAIR Data. They addressed developments, issues, and solutions, such as the need for cultural and incentives changes, conducive to Open Science advancement from the point of view of their organizations.
Mr Steve Crawford, Open-Source Science Initiative Lead, NASA mentioned how the United States federal agencies are celebrating 2023 as a Year of Open Science including the release of the open.science.gov website. Sharing the same open science definition, he said of NASA's Open-Source Science initiative  "we're adopting from open-source software, not just making the science open and the products open but the process of science open as well to make it more inclusive." Also, as far as open science community building, he added, "…we have transformed our open science initiative where we're looking to train 20,000 scientists on open science practices, to increase historically underrepresented groups in open science, and accelerate major discoveries through the adoption of open science."
Mr Karel Luyben, President of the EOSC Association, which is an instrument of the European Commission for supporting Open Science research, noted, similar to the issues with cultural heritage, that a current estimate is less than two per cent of research data can be found online, so openly accessible, and there also lacks lack of positive incentive in order to do this. Namely, "We don't have enough positive incentives for our researchers to share the data, to be rewarded for sharing data, to share their software, to be rewarded for sharing the software, and, especially, to get the meta metadata and all the information needed in order to get the software there." He suggested culture and incentive structure changes are required to create a joint universal common shared infrastructure for software.
Mr Bhanu R Neupane, Advisor, ICT and Sciences and Open Solutions, UNESCO, covered Open Access and an open science policy around the world, spanning the evolution of the UN Development Goals and Agenda,  including UNESCO's Open Science Recommendations (2021). He stated, "If we are to move to a different level of participation and bring the culture of sharing and openness into the broad discussion of science, we have to create a level playing field for everyone." 
In addressing the Software Heritage community, he stated, "As much as data and research is being talked about as a vehicle to drive the development agenda forward, software, unfortunately, it's not. I think this community has a lot to contribute to this overall discussion." He further emphasized the need for data in real-time, the openness of data, as well as the creation of a knowledge-sharing process and incentive structures, along with appropriate monitoring to measure improvement around the world.
The final session and series of presentations covered Perspectives from industry and public administration which gave the floor to industry, the open source community, and government organizations to share their thoughts on software about source code, its preservation and the value that it has. 
Mr Alexios Zavras, Chief Open Source Compliance Officer, Intel addressed the topic of open source and open ecosystems and confirmed, "Open source is everywhere. In every product, in everything. Every complex software system is an amalgamation of different components and most of the components that are being reused are under open source licenses." The issue he highlighted was that Intel products have very long lives, inside engines or satellites, and that there's a threat of the original software source code needed to update everything in the future being lost. "That's why we have worked together with Software Heritage and right now we are integrating, updating, uploading and using Software Heritage for every piece of our software produced at Intel," he concluded.
Regarding, building shared infrastructures, Mr Gael Blondelle, Chief Membership Officer, Eclipse Foundation, stated that "Whether it's for business reasons or to advance Sustainable Development Goals, open source enables the free flow of technology and that's what really enables global collaboration and global innovation." As well as, regarding Software Heritage, "With your archive, you enable people to build on top of everything that has been done since the beginning."
Mr Gijs Hillenius, European Commission Open Source Programme Office spoke on software reuse for public services through source code sharing. He noted that the realization that "…almost all political goals depend on IT, and almost all of IT depends on open source" elevated the vision of the Commission. He also spoke of, "… a European Parliament pilot project that we're currently involved with which is up trying to create an almost automatic European open source solutions catalogue. This is also where we've been looking very hard in how we can use Software Heritage and use, for example, their unique identifier." Further expressing support, he concluded, "We want to work with Software Heritage to make sure that: our own code repository is there because we agree we share the long-term vision, and we want to help Software Heritage get recognition in all of the Member States that we are in touch with. That's the OSPO network. Code development is one thing but we're also always looking for ways to improve the sharing and reuse of existing solutions." 
The sessions had an exciting conclusion with Mr Florent Kirchner, Secrétariat Général for Investment (SGPI), France and his thoughts and insights regarding software source code as a key for innovation. His vision considered how we manage our digital worlds, the way that they impact society, securing digital artifacts and building trust in those artifacts, such as software source code, etc., and the role France 2030, with 54 billion euros investment budget over five years, of which in the first year, 8.4 billion was invested. His call to action acknowledged that
"What's exciting about Software Heritage and the reason why I'm very happy to be here is that we see that software as an enabler and the archive as an enabler of human endeavours."
The symposium was also an opportunity to announce the extension of the partnership between UNESCO and Inria centred around the establishment of an International Working Group addressing the need for international recognition of software source code as an enabler for sustainable development, in cooperation with the Memory of the World (MoW) programme.
Software Heritage was unveiled to the world by Inria in 2016 with the aim to collect, preserve, and make readily available the source code of all software ever written, through a dedicated open infrastructure.
You can have a look at the event webpage published by UNESCO. 
If you were not able to be at the Software Heritage Symposium and Summit, catch up on the replay!
The Software Heritage symposium and summit was a valuable opportunity to bring together experts and stakeholders in the software industry to discuss the important issue of software preservation. By promoting collaboration and dialogue, this event has helped to raise awareness of the challenges and opportunities surrounding software preservation and to lay the groundwork for future efforts to build a universal software archive. If you would like to know more about our future events or be part of them, follow us on Twitter and LinkedIn and subscribe to our newsletter!