December 22, 2020
Introducing the Software Heritage Ambassador programme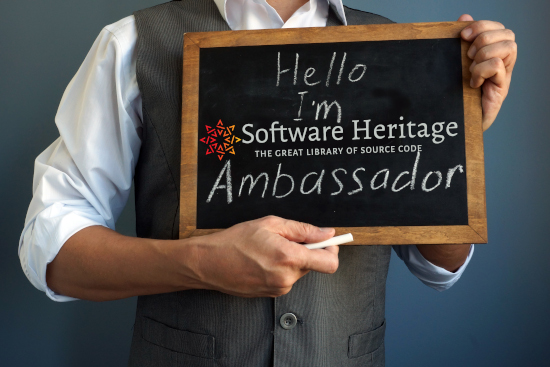 We are delighted to announce the Software Heritage ambassador programme, and look forward to welcome enthusiastic organizations and individuals that want to help spread the word about Software Heritage and the services it provides to society as a whole.
The mission of Software Heritage is to build a common, multi-stakeholder, non profit infrastructure for collecting, preserving and sharing the source code of all software in a universal software source code archive that enables a wealth of applications.
As an ambassador, you will have the responsibility and honor to present Software Heritage in the communities you are part of, sharing news, key information, applications and best practices. You will also be in touch with the Software Heritage team to provide your communities' feedback, and help identify areas where action needs to be taken.
So many reasons to engage
There is so much to do, in particular in academia, cultural heritage, industry and public administration, and we're looking for your help to make progress in all these areas.
Are you interested in showing researchers how to save and reference research software and how to cite it properly?
Would you like to help promote the Software Heritage Acquisition Process (SWHAP) for archiving landmark legacy software?
Are you eager to explain how the Software Heritage universal, vendor-neutral, persistent software archive provides the reference software knowledge base for  industry, and how SWHIDs are a game changer for traceability?
Ready to show how archiving source code in Software Heritage helps public administrations become more transparent and accountable?
Then get in touch with us and become an Ambassador for Software Heritage!